World Health Summit 2022 - What is different?
WHS 2022 was the first World Health Summit together with WHO
In 2021, our patron, the Director-General of WHO has approached us to organize a joint high-level summit. A joint WHS/WHO team is collaborating closely to bring together the many players in the global health arena.
WHS 2022 is part of a long-term close collaboration
WHO has been a strong strategic partner of the World Health Summit since its very beginning. WHS and WHO are both dedicated to the well-being of all people: To give everyone everywhere the chance to live a healthy live is a global effort, and the key to achieve better health for all lies in collaboration and open dialogue, guided by science. This is what WHS 2022 stands for.
The German commitment to the World Health Summit continues to be high
Chancellor Olaf Scholz is one of the high-ranking patrons of the WHS 2022 and spoke at the opening ceremony. Multiple German ministries will be involved — as before the lead lies with the German Federal Ministry of Health (BMG). The Ministries of Development (BMZ), Foreign Affairs (AA) and Education & Research (BMBF) are involved in planning sessions and bringing partners to Berlin.
A new strategic focus of the WHS 2022 is the financing of global health
Therefore we brought key financial institutions, investors, donors, and foundations together to discuss the investment in global common goods. Connecting stakeholders has always been a defining feature of the World Health Summit. Together with WHO we are welcomed heads of state, numerous ministers from all over the world, heads of international agencies, representatives of the G7 and the G20, the European Union, and the African Union – as well as civil society leaders and the private sector, including the health tech and the food industry. (WHO FENSA rules apply.)
The World Health Summit stays inclusive
This years' new venue allowed for more attendance in Berlin with more than 4,000 participants, but as usual all sessions were also available digitally. We are working with WHO and other partners to further significantly increase the participation from low- and middle-income countries. We will continue our commitment to gender parity.
The World Health Summit encourages key organizations to use the occasion
Come together and touch base with one another and with participants from all around the world at the WHS 2022: The new venue in the center of the diplomatic community allowed global health organizations and stakeholders to also organize their own events and bilaterals on-site.
The World Health Summit is open to different formats
In-depth discussions with global health leaders, debates between different positions or a town hall — we encouraged our partners to come with suggestions. We also encouraged our partners to consider launching programs, reports or publications at the WHS 2022.
World Health Summit 2022
October 16-18
Berlin, Germany
& Digital
Contact us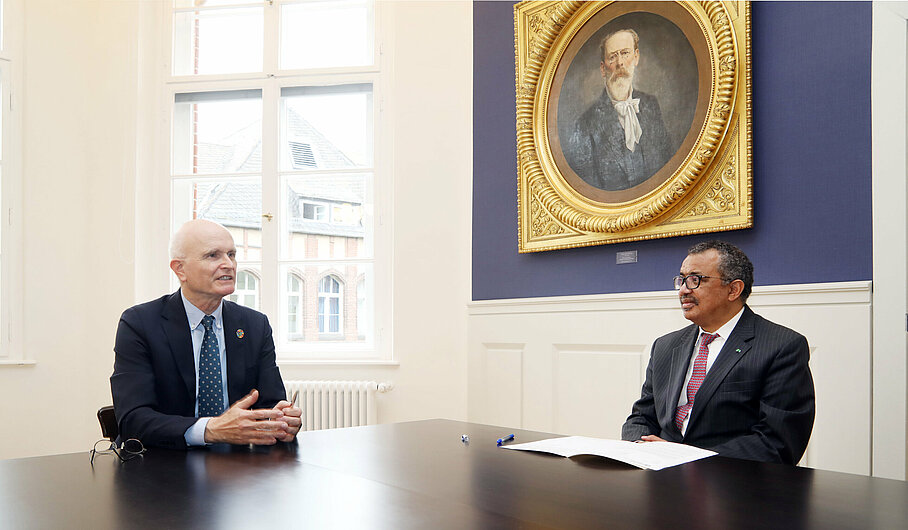 Credit: S. Gudath / Charité