3 Days - 63 Sessions - 106 Countries - 370 Speakers (52% Women, 48% Men) - 3,100 Participants On-Site - 12,000+ Participants Online
"A Defining Year For Global Health Action"
---
WHS 2023 Session Recordings
---
---
"The vital necessity for the global community to come together and unite in confronting our common global health challenges. Global health is a shared responsibility that can only be effectively addressed when we join forces and work together"
Karl Lauterbach
Federal Minister of Health, Germany
"Health is the ultimate narrative of hope. And only through intentional partnerships and meaningful cooperation we can collectively address the global health challenges that we are facing and the systemic inequalities that my generation is living through."
Omnia El Omrani
Youth Envoy to the President of the UN 27th Climate Change Conference (COP27)
"Today and every day, WHO will keep working with countries and communities all over the world in pursuit of our founding vision, the highest possible standard of health for all people."
Tedros Adhanom Ghebreyesus
Director-General, World Health Organization (WHO)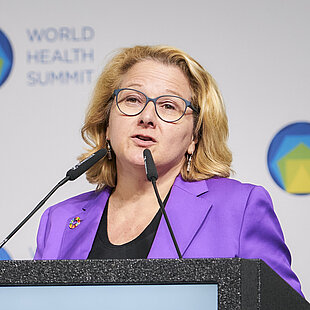 "Delivering the future to women comes at a crucial point in time. The ongoing crises are making it much harder to invest in women's health because countries have constrained budgets and competing health priorities."
Svenja Schulze
Federal Minister for Economic Cooperation and Development (BMZ), Germany
"Young people will save the world. We just need to make sure they have a world left to save. That is on us."
Ayoade Alakija
Ambassador, World Health Summit
"We feel hopeful because of the energy we see with young people, because of innovation, because of what people are doing and because of the power that rests in the communities. Even here, wherever we come from, we are a community and we hold power."
Githinji Gitahi
Global CEO, Amref Health Africa
"It's not only about innovating and about making healthcare better and doing new things, but it's about putting as much energy into bringing what is already there to those who really need it."
Bernd Montag
CEO, Siemens Healthineers
"Polio has taught us the importance of inter-sectional collaboration. When you want to get things done, problems do not come as packets with their corresponding solutions."
Sania Nishtar
Founder, Heartfile
---
World Health Summit in the media