In 1899, the London School of Tropical Medicine was founded. At the time, the school was at the Albert Dock Seamen's Hospital. Its mission was to teach doctors tropical medicine to be capable of treating British personnel working abroad.
In 1920, the school, along with the Hospital for Tropical Diseases, moved to Endsleigh Gardens and in 1924, the school was granted a Royal Charter. At this point, the school became the London School of Hygiene and Tropical Medicine, as it is entitled today. The school moved once more, in 1929, to Gower street, where it is located today.
Today, the school is a part of the University of London, thus students graduating from their programs obtain a degree from the University of London. Programs are available for students to study either in London or via distance education.
Outstanding persons / Nobel Prize Laureates include:
London School of Hygiene & Tropical Medicine graduates who are currently leaders in their fields include:
Ariel King, UN Representative and founding member of Women Impacting Public Policy
Dlawer Ala'Aldeen, Former Minister of Higher Education and Scientific Research in Iraq
Gilbert Bukenya, Former Vice President of Uganda
Diana Walford, Commander of the Most Excellent Order of the British Empire for services to public health
Habibollah Hedayat, Founder of the Institute of Nutrition and Food Science of Iran
Samantha Nutt, Founder and Executive Director of War Child Canada
Vanessa Kerry, Founder of Seed Global Health
Max Theiler, Nobel Prize Laureate in Physiology or Medicine for yellow fever vaccine
Prominent current and former staff members at the London School of Hygiene & Tropical Medicine include:
Kazem Behbehani, WHO Envoy and top 5 candidate in the WHO Director General election
Valerie Beral, Recipient of numerous honours, including the Donald Reid Medal for work with the Million Women Study
Claire Bertschinger, Recipient of five honorary doctorate degrees, and voted one of the top 20 most influential people in the nursing field
Christopher Dye, Director of Strategy in the Office of the Director General at the WHO
Richard Feachem, Founding Executive Director of the Global Fund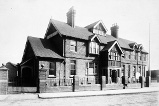 Established:
1899

Type:
Public

Structure:
The School is divided into three Faculties:
Epidemiology and Population Health.
This faculty has 330 staff and 150 research students. The Faculty consists of four departments: Infectious Disease Epidemiology, Medical Statistics, Non-communicable Disease Epidemiology, and Population Health
Infectious and Tropical Diseases
Public Health and Policy
Their educational programs span Masters Degrees, Research Degrees, Distance Learning and Short Courses. Topics span epidemiology, health policy, infectious disease, public health, and more.
Staff:
1300. At any time, a minimum of 100 staff are working abroad.

Students:
About 4,000
Focus / Key Aspects:
The London School of Hygiene & Tropical Medicine has many School Centres, which address global health issues in a highly multi-disciplinary manner. Among these are:
Bloomsbury Centre for Genetic Epidemiology & Statistics
Centre for Evaluation
Centre for Global Mental Health
Centre for Global Non-Communicable Diseases
Centre for History in Public Health
Centre for Maternal Adolescent Reproductive & Child Health
Centre for the Mathematical Modelling of Infectious Diseases
Centre for Statistical Methodology
Centre for Tuberculosis
European Centre on Health of Societies in Transition
International Centre for Evidence on Disability
International Diagnostics Centre
Malaria Centre
Vaccine Centre
There are also an abundance of groups, including the following:
ACT Consortium
Communicable Diseases Policy Research Group
Global HIV/AIDS Initiatives Network
Healthy Environments Research Programme
International Centre for Evidence in Disability
International Centre for Eye Health
International Healthcare Comparisons
International Programme on Ethics, Public Health and Human Rights
Malaria Capacity Development Consortium
Maternal & Child Health Intervention Research Group
Tropical Epidemiology Group
The London School of Hygiene & Tropical Medicine has research collaborations in more than 100 countries. More detailed information regarding projects, divided into several global regions, can be found at www.lshtm.ac.uk
4. Partnerships and Programs
Partner Universities:
An interactive map illustrates collaborations, placement of staff abroad, student origins and current location of alumni. The map highlights the widespread global network of programs connected to the University: www.lshtm.ac.uk
Student Programs:
The school's Distance Learning Programme began in 1998 and presently there are more than 3000 students, from 130 countries, enrolled. Distance programs include Masters, Diplomas, Certificates and Short Courses.
Thirty Masters programs, focusing on specific areas of health, are available, as well as PhD and DrPH programs.
The school has a group, called the Student Representative Council, which allows students to represent the entire student body, advancing their interests.
Affiliations:
The London School of Hygiene & Tropical Medicine is committed to working in equitable partnership with its collaborators, and is involved in many capacity strengthening projects and consortia, including:
Wellcome Trust African Institutions Capacity Building Consortia
Public Health Foundation of India
Through clusters of Commonwealth Commission scholarships for distance learning
Motto:
Improving health worldwide
Miscellaneous:
The School was named the world's leading research-focused graduate school in the Times Higher Education World Rankings (October 2013). In May 2014, it was ranked in the top 10 of all universities in the world for citation rate by the new EU-supported U-Multirank database, and fourth in the world for impact in medical sciences by the Leiden Ranking.