When the University was started in 1878, their programming was limited to three faculties and not even a hundred students. It wasn't until 1895 that the University's Faculties were consolidated to one location. Although the University had been a branch of the Université Laval de Québec, it gained institutional independence in 1919. The École Polytechnique and the École des Hautes Études Commerciales became affiliations, as they remain to be today.
Despite a fire and struggles during the Depression that nearly resulted in its closing, the University endured and opened its new campus in 1943. By the 1980s, a century after its founding, the university had clearly established its position as one of the world's leading academic institutions.
Outstanding persons / Nobel Prize Laureates include:
Graduates who became leaders in their fields include:
Louise Arbour, Former Supreme Court of Canada Justice and UN High Commissioner for Human Rights
André Barbeau, neurologist awarded the Prix Marie-Victorin and the McLaughlin Medal
Michel Bastarache, Marie Deschamps and Antonio Lamer, Supreme Court of Canada Justice
Gilles Brassard, Known for work in quantum cryptography
Phillippe de Gaspé Beaubien, Founder and CEO of Telemedia
Ahmed Benbitour, Former Prime Minister of Algeria
Louis R. Chênevert, Chairman and CEO of United Technologies Corporation
Roger Guillemin, Nobel Prize Laureate in Medicine or Physiology for work with neurohormones
Michaëlle Jean, Former Governor General of Canada
André Lussier, pioneer of clinical and scientific rheumatology in Canada
Pierre Karl Péladeau, President and CEO of Quebecor
Calin Rovinescu, CEO of Air Canada
Pierre Trudeau, Former Prime Minsiter of Canada
Eleven Premiers of Quebec
Established:
1878

Type:
Public

Structure:
The campus is a network of over thirty buildings. It has 16 faculties, and 80 departments and schools. Because of the magnitude of the university, it is able to offer programming in nearly every academic field. It has two affiliated schools, the École Polytechnique and the HEC Montréal, in addition to an expansive network of affiliated hospitals and centres. The University consists of the following Faculties:
Arts and Science
Continuing Education
Dentistry
Education
Environmental Design
Graduate Studies
Law
Medicine
Music
Nursing
Pharmacy
Theology and Religious Sciences
Veterinary Medicine
Staff:
4,700 managers and support staff, 2,640 Professors and Researchers

Students:
64,463
Endowment:
$231.404 million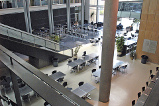 Focus / Key Aspects:
The University of Montréal, an active research University, comprises 2,640 professors and 465 research units. In addition, one of the largest graduate student bodies can be found here – 26% of students are pursuing a graduate degree.

According to Research Infosource's 2013 ranking, the University of Montréal places third for Canada's top research universities.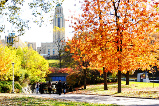 4. Partnerships and Programs
Student Programs:
The "Fédération des associations étudiantes du campus de l'Université de Montréal" is a student group that represents the interests and perspectives of the student population. This group is associated with 82 student organizations and clubs, which span a vast array of interest areas from academics and religion to sororities and recreation groups. Students are able to travel abroad for a variety of programs: student exchange programs, practicums, research placements, thesis work or short-term programs.
Affiliations
The University has 17 affiliated health institutions and 630 international agreements in more than 65 countries.
The University has two affiliated schools, the École Polytechnique and the HEC Montréal, as well as a system of affiliated hospitals.
Two University Hospital Centres: CHUM and CHU Sainte-Justine
University Institutes: Institut de cardiologie de Montréal, Institut universitaire de gériatrie de Montréal, Institut universitaire en santé mentale de Montréal, Centre de jeunesse de Montréal – IU, Centre de réadaptation en dependence de Montréal – IU
Hospitals with a university affiliation: Hôpital du Sacré-Cœur de Montréal, Hôpital Maisonneuve-Rosemont
Regional hospitals with a university affiliation: CSSS de Chicoutimi, CSSS de Trois-Rivières
Healthcentres with a university affiliation : CSSS de la Montagne, CSSS Cavendish, CSSS de Bordeaux-Cartierville-Saint-Laurent, CSSS Jeanne-Mance
Affiliated hospitals : CSSS du Sud-Ouest-Verdun, CSSS de Laval, Hôpital Rivière-des-Prairies, Institut Philippe-Pinel de Montréal, Institut de réadaptation Gingras-Lindsay-de-Montréal
Other affiliated institutions : CSSS Ahuntsic et Montréal-Nord, CSSS Pointe-de-l'Ile, Centre de réadaptation Lucie-Bruneau, Institut Nazareth et Louis-Braille, Institut Raymond-Dewar, Institut de recherche clinique de Montréal
U15 Group of Canadian Research Universities
Motto:
Fide splendet et scientia
"It shines by faith and knowledge"
Miscellaneous:
Students of the University own operate the radio station CISM. After gaining rights to transmit on an FM band, and having its broadcasting potential expanded, it has now become the world's furthest reaching French-language university radio station.